My old friends, Mark and Helen, got married in October. We had a lovely day at Birmingham's
Fazeley Studios
(stunning venue) and there was a bit of a handmade element to the day - amazing cake by my good friend and
Crafty Mutha
, Rachel, flowers were casually but artfully arranged in vintage vases by Helen's 'knit club' friends, silk hankies were made for the groom and his main men by best gal Zoe and even I got in on the act - making teacup candles for the tables.
Photos by Lorna Rose
I'd been thinking for ages about presents for the happy couple. The first part was easy enough actually. Mark has long admired some prints I have above my fireplace by artist
Sophie Blackall
. They're from her Missed Connections series. I saw them on Etsy a few years ago and my mate Nat was sweet enough to give me three for my 40th birthday. I love her imaginative drawings and her colour palette but most of all I love the story telling quality of each picture. I chose this one for Mark and Helen because in it, there was the tiniest suggestion of them. I can almost picture their heads on top of the shirts.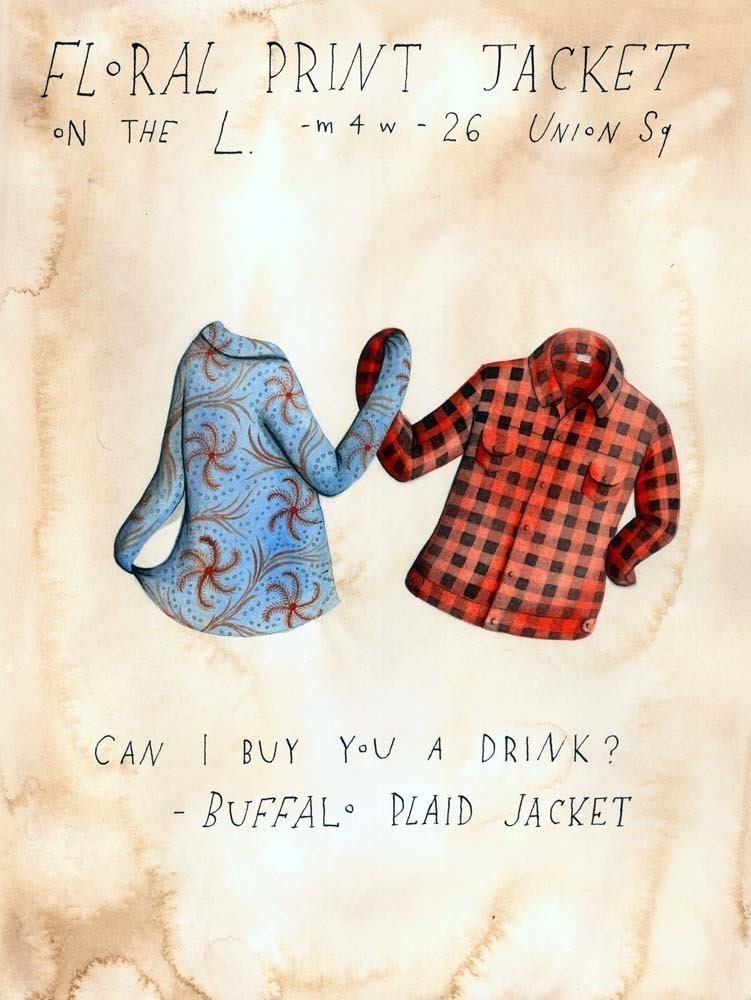 Floral Jacket by Sophie Blackall from Etsy
Of course, I had to make them something too. I had been wondering what, but then on Helen's hen weekend (yep, we had a whole weekend in a tipi at Ash End House Farm in Tanworth-in-Arden) a sort of 'Mr and Mrs' quiz had been arranged. One of the last questions was "What celebrity couple does Mark think you're most like?" Drunken cacklers shouted 'Posh and Becks' and 'Brangelina' but we were way off. Helen failed to guess, but Mark's answer had been 'Laurel and Hardy'. I thought it was the sweetest, most appropriate answer anyone could have come up with, because they're such a sweet and funny couple.
So I had my theme, but what to do with it. When the idea came to me I was both pleased and relieved. Of course, a hoop was involved. And embroidery. I googled the famous duo to find a suitable image to trace. I thought this recognisable pose would work well for a silhouette. Then I re-traced it and added the words. Then re-traced it again onto muslin and just stitched it using tiny stitches and fine thread. It just worked straight away. The quote I used is a famous one but actually a mis-quote. Turns out Ollie actually said "nice mess" not "fine mess" but I like the look and sound of 'fine' more. So there.
However...
At the reception, Mark revealed he'd had a secret tattoo done a couple of days earlier, so that he'd always have Helen close to his heart. The guests whooped with joy and laughter when he opened his shirt to Helen's amazement. And best man, Andy, had captured this awesome photo of the tat that morning. Only thing is, looking at this, I think maybe Posh and (definitely) Becks is a more appropriate comparison now! Looking good my friend. Looking good.
Photo by Andy Conway